In the week when the nation mourned the passing of our monarch, the Everyday Faith team made some changes to its planned deanery event in Elworth to honour the example of Christian discipleship set by Queen Elizabeth.
More than 70 people from parishes in the Nantwich and Congleton deaneries came to learn more about how we too can live out our everyday faith in Jesus. The event was part of diocesan wide project which is helping parishes to encourage a faith sharing culture.
Future Everyday Faith deanery events
The evening began with coffee and conversation before the Archdeacon of Chester, Mike Gilbertson, led the group in a moment of quiet reflection and prayer.
Archdeaon Mike said: "For most people in this country Queen Elizabeth has been the only sovereign that we've known and it's been quite a disorientating time.
"The Queen lived in a different context from most of us, but the principle is the same and as we give thanks for her life and her witness, I think we can say that she was a really strong example of somebody living out their faith in everyday life.
"We can honour the Queen as an example of everyday Christian discipleship."
Archdeacon Mike then prayed for the Queen and for King Charles.
The Revd Simon Chesters, Director of Ministry, talked about the meaning of "ministry" and service to God and to others, before inviting people to think about where it is that God has unqiuely placed them to live out their faith, leading to some lively discussions and reflections from the room.
Chris Bailey from St Bertoline, Barthomley, said the last couple of years have proven challenging but that the simple act of picking up the telephone is important: "We haven't been able to go round to people's houses but I do think talking on the telephone - and I don't mean talking faith - I mean just listening, is important because very often someone will unburden themselves. I do think being in touch is very very improtant, not just for the congregation but for anyone in the community."
Penni Doyle, from St Mary's, Acton, said her book group was a place she often has very interesting conversations about faith: "Even though we're reading books that aren't explicitly about faith, the whole subject arises. Although it is only once a month, I do meet these people outside book group as well and quite often conversations will continue in terms of sprituality and our faith."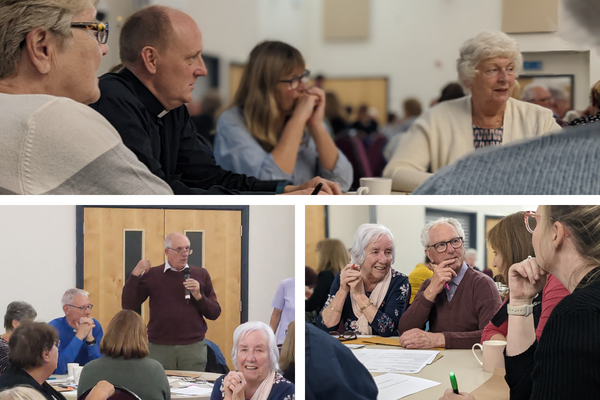 Dick Drew from All Saints, Congleton, said that it was at the golf course that he occasionally found opportunity to share his faith: "Talking about faith very rarely happens, but they know I go to church because every Christmas at the Christmas dinner, I get asked to say grace!"
There are just two more events in the Everyday Faith deanery series and parishes in the deaneries of Frodsham and Wirral South are encouraged to register for the next event on 06 October.
The final event on 17 October is open to parishes in Cheadle and Macclesfield deaneries.
Everyday Faith resources can be found on the website here: Everyday faith - Resources - Diocese of Chester (anglican.org)
Future Everyday Faith deanery events
17 March: Great Budworth and Middlewich - Watch a short review
26 April: Chester and Malpas
07 July: Birkenhead, Wallasey and Wirral North
18 July: Chadkirk, Stockport, and Mottram - Read a short review
06 September: Bowdon and Knutsford
14 September: Nantwich and Congleton
06 October: Frodsham and Wirral South REGISTRATION OPEN
17 October: Cheadle and Macclesfield REGISTRATION OPEN