A Church Near You
A Church Near You (ACNY) is a website that allows visitors to quickly find the nearest church to them with the features that they require. Looking for a church with a foodbank? Find it on ACNY. After your local Alpha course? Find it on ACNY. Want a church with beautiful stain glass windows for your wedding? ACNY is your go-to site.
A Church Near You is offered to all churches free of charge. It allows every church in the Church of England to have a presence on a platform that is increasingly popular.
A Church Near You is an exciting evangelism opportunity – the vast majority of visitors to the website are new and the age split is exciting.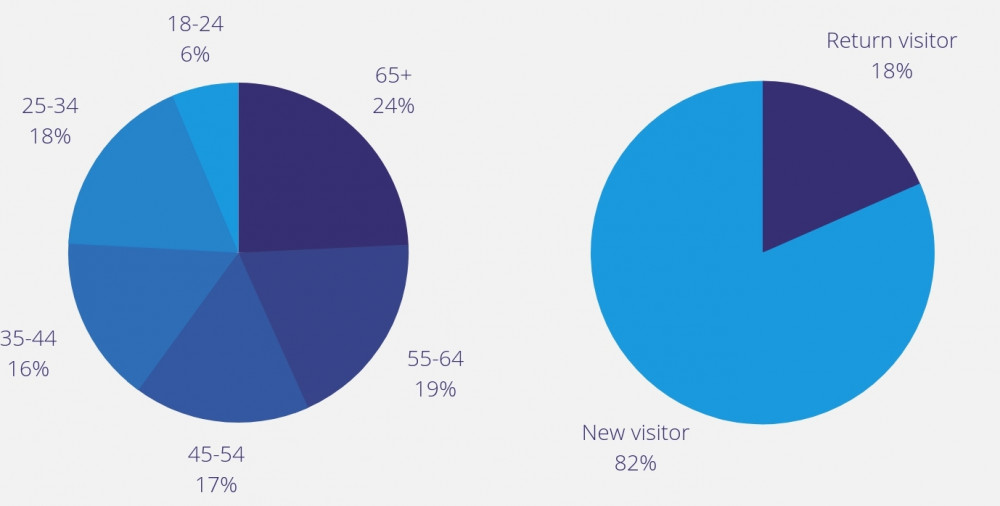 Data taken from ACNY website from January to July 2018

Interestingly, statistics show that people use ACNY to find church services just before the big Christian festivals. In the 72 hours in the run-up to Christmas and Easter, ACNY received a spike in visitors looking to attend their local church service.

Data taken from ACNY website in the run-up to Christmas 2017

How to make the most of this opportunity?
If you are already on ACNY, please make sure that your details are up to date, especially in the lead up to Christmas and Easter when visitor numbers are at their highest.
If your church hasn't already taken advantage of this opportunity and you would like some support setting up your pages on ACNY, contact the Communications Team.

A Church Near You has just entered its second phase of development which promises to offer not only a presence on the platform but a free church website to every church in the Church of England. This is an exciting development and could save your church hundreds of pounds every year.
What was offered in Phase 1?
A mobile-first site.
A page with the look and feel of a modern-website.
Increased personalisation tools – you can now add your logo, a cover picture and a welcome message.
Ability to add up to 10 pages, which could be for more information on your children's activities, outreach projects, church history etc.
Control has been returned to the churches.
A simpler editing experience.
A safe and secure site that sits behind three layers of protection.
Users can now find not only the closest church to them but the church closest to them offering the service or event that they're looking for – thanks to the tags.
What is promised in Phase 2?
The chance for schools to be listed on the website too.
The chance for churches to use ACNY as their website – pointing their domain name towards the ACNY page.
The ability to add news stories, notice sheets and photo galleries.
The opportunity to receive national campaign information and embed it into your local website.
Homepage editing – giving you control over what your visitors see.
Analytics so that you can monitor who's visiting, from where and when.
8 reasons your church should be keeping your A Church Near You page up to date
The site receives around 10 million page views a year with 50% more traffic in December 2017 vs December 2016.
Many of these visitors are coming to ACNY for the first time, 82% in fact. A lot of the enquiries churches receive through the site are for weddings and christenings.
People regularly visit A Church Near You first as it often appears top in search results.
In a recent survey of 13,000 editors around the country, 77% said they found the new site easy to edit
A Church Near You is completely free to use. By using it as your website you can free up money for other church projects.
The site meets modern security and accessibility standards, saving local churches lots of time and resource.
There are exciting plans to regularly add new features and functionality.
By using the tags provided, you are highlighting the good work of your church nationally.
Please contact the Communications Team based at Church House, Daresbury, if you have any questions regarding A Church Near You.