Who the course is for
Foundations is lots of different kinds of lay people who want to serve God in the church and in the world.

People go on from Foundations for Ministry to support many different kinds of Christian ministry:
Serving God at their place of work, in the family, in the community;
Roles within the church (children's work, youth work, music ministry; churchwardens, PCC members, pastoral work, administrative work and more);
Ordained ministry;
Licensed lay ministry (Readers, Pastoral Workers, Parish Nurse, Church Army and more).
The course is open to anyone who wants to grow and develop in Christian ministry. It is not a basics course, so it is expected that students will have some background in Christian life and thinking. Often it is useful for people to do Foundations for Ministry after some other course of Christian learning (e.g. the Pilgrim course, Emmaus, Alpha, adult confirmation course, etc).
Foundations for Ministry is a course about applying the Bible and Christian thinking to ministry in the church and the world – it is not a course mainly about how the Bible fits together, so it is expected that people have some of that material under their belts before they come on the course.
All applicants will already be actively involved as Christians in serving God through the church and in their lives.
We ask that anyone applying discuss it with their church's incumbent minister and gain their approval and backing for doing the course.
Foundations is also the required "first-step" course for those going on to Reader and Pastoral Worker training. It provides an introduction to skills and learning that helps people take full advantage of that further training.
The course looks at the following areas:
God's kingdom and what it means to be the church;
How we apply our faith to the difficult issues we face in daily life and in the church;
What ministry is and how we can find and develop our own ministry;
What are our own gifts and skills and how we can use them with others;
How the Bible, prayer and working with others can support our ministry;
What vocation is and ways of finding your own;
Ways of working together that can enrich the ministry of the whole church;
Everyday faith and the consequences of discipleship in the whole of life;
How small groups can help the church grow;
The challenge of mission and how we can share our faith as churches and as individuals.
Learning with others
As well as the course content, what many people learn the most from on the course is each other. Foundations is designed as a course where people from different parishes can meet together to learn from and encourage each other.
Over the years we have run the course, the small group work has been a place where people make some firm friends and learn more about themselves and each other in a supportive and prayerful environment.
How the course runs
The course consists of 22 evening sessions, spread over three terms from September to April. There is also an induction day at the start of the course in September, and two days on ministry which are on Saturdays.

The evening sessions run from 7.30pm to 9.30pm and are usually split into two:
Worship and a lively presentation from the front on the topic of the evening;
Small group time. This involves discussion, reflection, practical exercises, personal sharing and prayer. Students will be expected to take part in discussion and various exercises – come prepared to be involved and you will also be expected to do about an hour of linkwork between sessions, which feeds into the group discussion.
Pathways through the course
Many people do FfM simply by being part of the course group, sharing and learning together with others from the presentations and the group work. However, there is also an option to do some assessed work to help deepen and develop your learning on the course.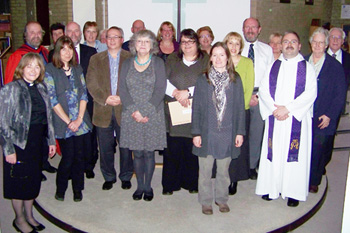 What the assessed work involves
There is a choice of different assignments, including reflections on what you are learning on the course, group based exercises, parish-based projects and more. There is a total of four pieces of written work to complete the assessed course. We offer study skills help for people who haven't done this sort of thing before, or haven't done it in a long while. Resources will be available at the sessions and online.

Most of the course materials are available online - so having internet access is really helpful in getting the best out of the course.
What do I get at the end of it?
Everybody who does the course gets a certificate of completion.
The assessed pathway is validated by the University of Chester. On successful completion of the course you will be awarded the Church Universities' Certificate in Ministry — a nationally recognized award — which allows you to take those credits on into further study. Completion of the CUC (Ministry) is a requirement for those intending to become licensed Readers or Pastoral Workers.
How to apply
Application forms can be obtained from the Committee and Ministry (CfM) office at Church House. These need to be returned by 9 September.
Discuss the application with your incumbent, then contact the Course Administrator ministry@chester.anglican.org
The deadline for applications is 9 September, although all places may be filled well before then. We will always consider applications received after the deadline. If you are accepted by your parish and the Diocese to train as a Pastoral Worker or Reader, you will definitely be given a place on the course as it forms the first year of your training. Do note however, these ministries have a selection process in place.
When and where
Mondays: Ellesmere Port
Tuesdays: Hale
Wednesdays: Mottram Deanery (venue to be advised)