Over the past few years the issues of climate change, loss of biodiversity and the impact that human living and choices have upon the Earth have all become much more to the fore of everyday life. This is true in the Churches too. Although there have been many Christian voices across the denominations speaking about these things for over half a decade, in recent years there has been an increase in the urgency of the message to care for the Earth. The Archbishop of Canterbury, Justin Welby, has said:
"Reducing the causes of climate change is essential to the life of faith. It is a way to love our neighbour and to steward the gift of creation."
The Church of England is engaging with the need to be more thoughtful about how we live in relation to the whole of God's creation and to this end is seeking to do a number of things, including the proposal by General Synod that it will disinvest in fossil fuel companies if they do not seek to change their practices to produce energy from renewable sources. The Synod has called upon every diocese to have an environmental programme and a member of the Bishop's Staff Team to lead on the programme.
In Chester Diocese the 'Environment Forum' was launched in 2018 to seek to advocate issues around ecology and to envision how individuals and parishes across the diocese can better connect with the fifth Mark of Mission:
'To strive to safeguard the integrity of creation, and sustain and renew the life of the earth'
To this end, a number of projects are being developed and deployed across the diocese, such as growing links with Chester Zoo and their community outreach programmes like 'wildlife champions' or encouraging parishes to sign up to the eco-church project https://ecochurch.arocha.org.uk
Currently, the Forum is getting a clearer picture of what individual parishes and deaneries are doing or planning to do and is developing a teaching/training resource which aims to help any parish host their own environment-awareness sessions with church members or with the wider community.
There are many different strands wrapped up in the whole area of environmental concern and the Christian response to current issues: some are fairly straightforward, others are much more complex. One thing is clear though – there is an urgent need for a new response alongside an increased focus on the issues in our prayers.
If you want to explore further, as well as looking at the eco-church project (above) there are also helpful resources to be found online at:www.churchofengland.org/environment
Church of England – environment and climate change guidance
The national Church of England webpage has a wealth of resources to support your parish, including accessing 'net zero' webinars, signing up to the environment newsletter, how to access the Energy Footprint tool and other practical and liturgical resources.
Churchyard transformation: webinar recording and Q&A sheet
Watch a Diocese of Chester recording of a 2021 webinar exploring the transformation of a neglected churchyard space into a green space garden at St Mary's, Partington. Hear about the missional opportunities this created in both the making of the garden and its use and management.
Collect for Environment Sunday
Living God, you call us to be good stewards
of this earthly home,
strengthen us to care for your creation;
forgive us when, through our greed and indifference
we abuse its beauty and damage its potential.
Empower us, through your Spirit,
to so nurture and love the world,
that all creation sings to your glory. Amen
Gathered together for worship at Chester Zoo: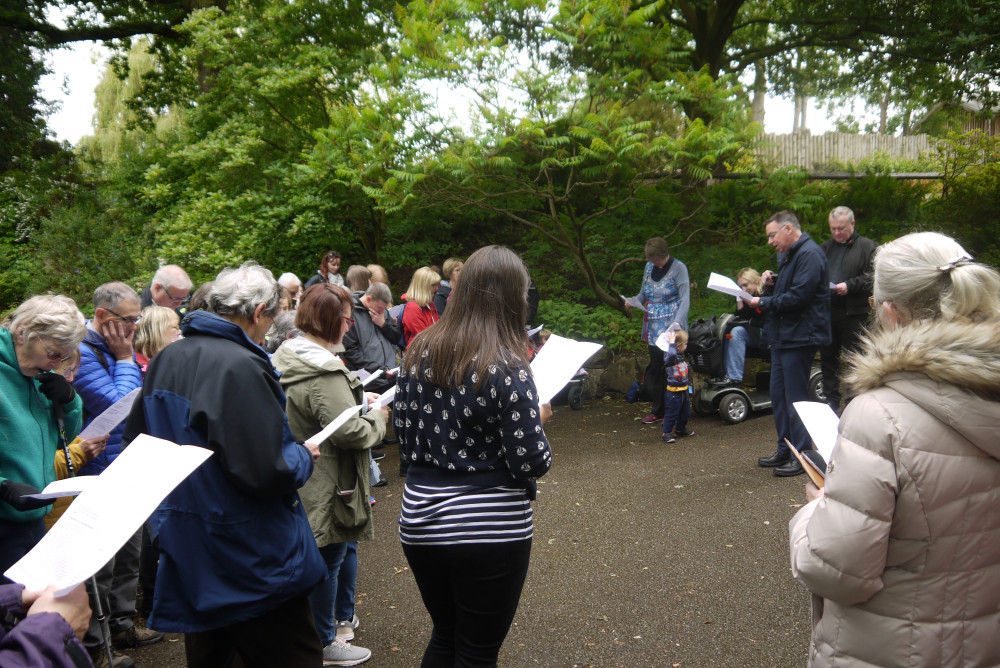 Additional Information below: