COP27 is being held in Egypt from Sunday 6 November to Friday 18 November
Issues to look out for
Nationally Determined Contributions (NDCs) – targets set by each country to reduce emissions. In Glasgow in 2021 it was agreed that these should be renewed every year, rather than every 5 years as was agreed in Paris. There are hopes for a new round of ambitious targets.
Loss and Damage. New and fair sources of finance for countries which have already suffered loss and damage due to climate change, in addition to any money promised for adaptation and mitigation. This is slowly rising up the agenda but more needs to be done. See this special series from Carbon Brief.
Civil society engagement. There are concerns that the space for civil society engagement in the conference is being closed down, and that local activists and protesters are at risk. See this report from Reuters.
Participation in Egypt
There will be representatives from UK based NGOs in Egypt, but many people have chosen not to attend due to carbon emissions and to give the space to local voices.
However, the Anglican Communion will be there represented by the Anglican Consultative Council, led by Nicholas Pande from Kenya. Loss and Damage is one of their key asks.
Lydia Perris will also be there as an observer. She will be posting on Instagram during the conference and will be a useful person to follow.
Participation in the UK
There are a number of ways of being involved from the UK
Ring out for Climate. Ring church bells on Saturday 5 November for 30 minutes at 5pm or whenever suits. Ring the bells as a warning about the changing climate, and to mark the end of the UK's presidency of the COP and a handing over to Egypt and our fellow campaigners in Africa. There is a poster attached, and some text which you could use for a press release. It only works if you let people know why you are ringing the bells!
Global Day of Action: Saturday 12 November, Egyptian activists have called on their siblings round the world to come out in support for a day of action. There is an event happening in London. If you want to join with other people of faith, meet at St John's Church, Waterloo at 11:30am to join with others from the Make COP Count faith coalition. There will be prayers and refreshments, and then the group will join the main group of marchers in Jubilee Gardens. The march will end in Trafalgar Square at about 3pm where there will be a rally with speeches, all finishing at around 4:30pm. If you can't make it to London, please check out and join in local events. Or organise one yourself if there's nothing happening near you. The aim is to have a large number of local events so that the action is spread as far and wide as possible. More information from Global Justice Now and the Climate Justice Coalition. Tearfund and Christian Aid will be joining the action in London.
Pray. The Diocese of Leeds will be sending daily prayer emails for the 2 weeks of COP27. Sign up here.
Other things
Fossil Fuel Non-Proliferation Treaty. There is a movement to get nation states to sign up to a treaty similar to the nuclear non-proliferation treaty. The EWG has backed this campaign, and the European Parliament recently included it in a resolution outlining its demands for COP27. Find out more about the idea here, and what the European Parliament said.
Historic England Climate Wednesday Webinars: in the run up to COP27, Historic England are featuring perspectives from the Global South in a series of webinars about caring for our cultural heritage.
COP Civic Space. If you are concerned about human rights and the threat to civic space at COP27, there is a petition here.
---
Over the past few years the issues of climate change, loss of biodiversity and the impact that human living and choices have upon the Earth have all become much more to the fore of everyday life. This is true in the Churches too. Although there have been many Christian voices across the denominations speaking about these things for over half a decade, in recent years there has been an increase in the urgency of the message to care for the Earth. The Archbishop of Canterbury, Justin Welby, has said:
"Reducing the causes of climate change is essential to the life of faith. It is a way to love our neighbour and to steward the gift of creation."
The Church of England is engaging with the need to be more thoughtful about how we live in relation to the whole of God's creation and to this end is seeking to do a number of things, including the proposal by General Synod that it will disinvest in fossil fuel companies if they do not seek to change their practices to produce energy from renewable sources. The Synod has called upon every diocese to have an environmental programme and a member of the Bishop's Staff Team to lead on the programme.
In Chester Diocese the 'Environment Forum' was launched in 2018 to seek to advocate issues around ecology and to envision how individuals and parishes across the diocese can better connect with the fifth Mark of Mission:
'To strive to safeguard the integrity of creation, and sustain and renew the life of the earth'
To this end, a number of projects are being developed and deployed across the diocese, such as growing links with Chester Zoo and their community outreach programmes like 'wildlife champions' or encouraging parishes to sign up to the eco-church project https://ecochurch.arocha.org.uk
Currently, the Forum is getting a clearer picture of what individual parishes and deaneries are doing or planning to do and is developing a teaching/training resource which aims to help any parish host their own environment-awareness sessions with church members or with the wider community.
There are many different strands wrapped up in the whole area of environmental concern and the Christian response to current issues: some are fairly straightforward, others are much more complex. One thing is clear though – there is an urgent need for a new response alongside an increased focus on the issues in our prayers.
If you want to explore further, as well as looking at the eco-church project (above) there are also helpful resources to be found online at:www.churchofengland.org/environment
Church of England – environment and climate change guidance
The national Church of England webpage has a wealth of resources to support your parish, including accessing 'net zero' webinars, signing up to the environment newsletter, how to access the Energy Footprint tool and other practical and liturgical resources.
Churchyard transformation: webinar recording and Q&A sheet
Watch a Diocese of Chester recording of a 2021 webinar exploring the transformation of a neglected churchyard space into a green space garden at St Mary's, Partington. Hear about the missional opportunities this created in both the making of the garden and its use and management.
Collect for Environment Sunday
Living God, you call us to be good stewards
of this earthly home,
strengthen us to care for your creation;
forgive us when, through our greed and indifference
we abuse its beauty and damage its potential.
Empower us, through your Spirit,
to so nurture and love the world,
that all creation sings to your glory. Amen
Gathered together for worship at Chester Zoo: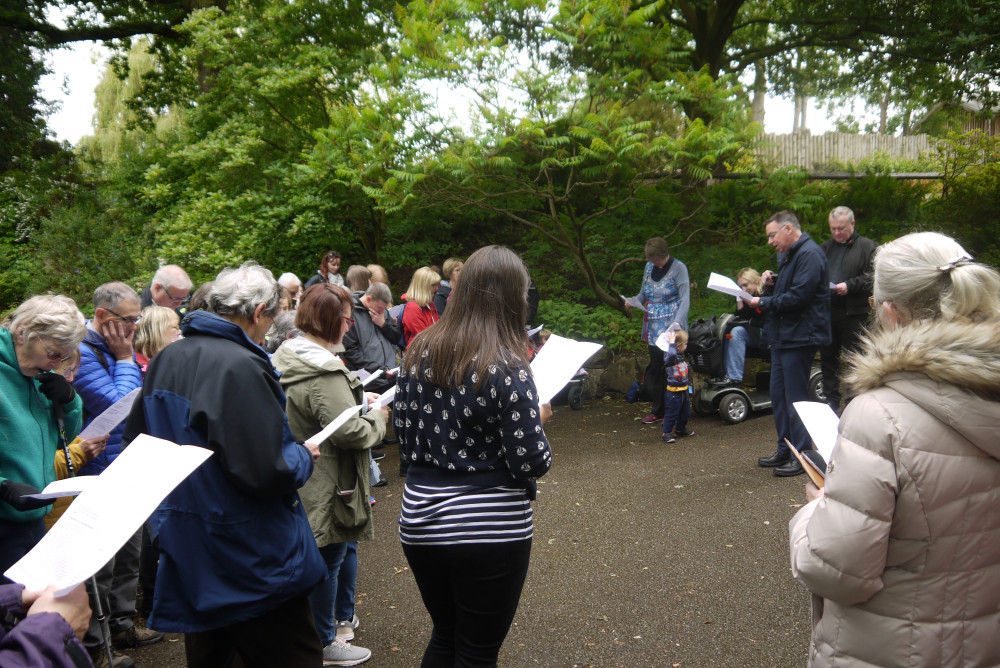 A Rocha Eco Church
Social Responsibility are encouraging churches to sign up to become Eco-Churches. Eco-Church is an ward scheme through the charity A Rocha. It is designed to equip your church to express your care for God's world in your worship and teaching; in how you look after your buildings and land; in how you engage with your local community and in global campaigns, and in the personal lifestyles of your congregation.
Their vision is for churches of all denominations to care for creation as an integral part of loving their neighbours and following God faithfully. You can take the survey here: https://ecochurch.arocha.org.uk/
Record
Record is a Biological Records Centre serving Cheshire, Halton, Warrington and Wirral - 'The Cheshire Region'. The centre provides a local facility for the storage, validation and usage of Cheshire based biological data under the National Biodiversity Network (NBN) project.
RECORD brings biological recording, the needs of the community, and a range of organisations together as a 'one-stop' information resource for organisations and individuals alike. http://www.record-lrc.co.uk/
Caring for God's Acre
Caring for God's Acre work nationally to support groups and individuals to investigate, care for, and enjoy burial grounds.
Their vision is to keep burial grounds beautiful, accessible and connected to communities. https://www.caringforgodsacre.org.uk/
Quiet Garden
Have you created a spiritual garden or outside space specifically for prayer or reflection in your church grounds? Register your spiritual garden on this Christian charity website and access their resources. https://quietgarden.org/
Wildlife champions
Wildlife Connections is a project led by Chester Zoo to create safe spaces for our most precious local wildlife.
By creating connections from one wildlife-friendly space to the next we can create wildlife highways through our neighbourhoods and protect the precious wildlife that we love.
There are plenty of ways you can get involved too – from making small changes to your garden or local green space, recording the wildlife you see, to becoming a Wildlife Champion! https://www.chesterzoo.org/what-you-can-do/campaigns/fundraising/wildlife-connections/