Global Images of Christ: Challenging Perceptions opened to invited guests at a special event held at Chester Cathedral on Thursday 23 September.
The exhibition, made up of over 50 paintings, African and Chinese sculptures, and orthodox icons, aims to challenge the Western depiction of Jesus Christ and his followers. It opens to the public on Saturday 25 September and runs until the end of October.
The works, which include contributions from artists such as Mark Cazalet, Peter Eugene Ball, and Lorna May Wadsworth have been collected from churches across the UK by Chester Cathedral's Canon Precentor, Jeremy Dussek and curated by the Art and Design Department of the University of Chester.
The exhibition is a collaborative venture by Chester Cathedral, the University of Chester and the Diocese of Chester and represents a desire by all to promote equality and diversity in a community partnership.
The central piece in the exhibition is Lorna May Wadsworth's depiction of the Last Supper, the final meal that Jesus shared with his apostles in Jerusalem before his crucifixion. Wadsworth portrays Jesus as a black man and worked with Jamaican-born fashion model, Tafari Hinds who modelled for the representation. Her composition is based on the late 15th-century mural painting by Italian artist Leonardo da Vinci.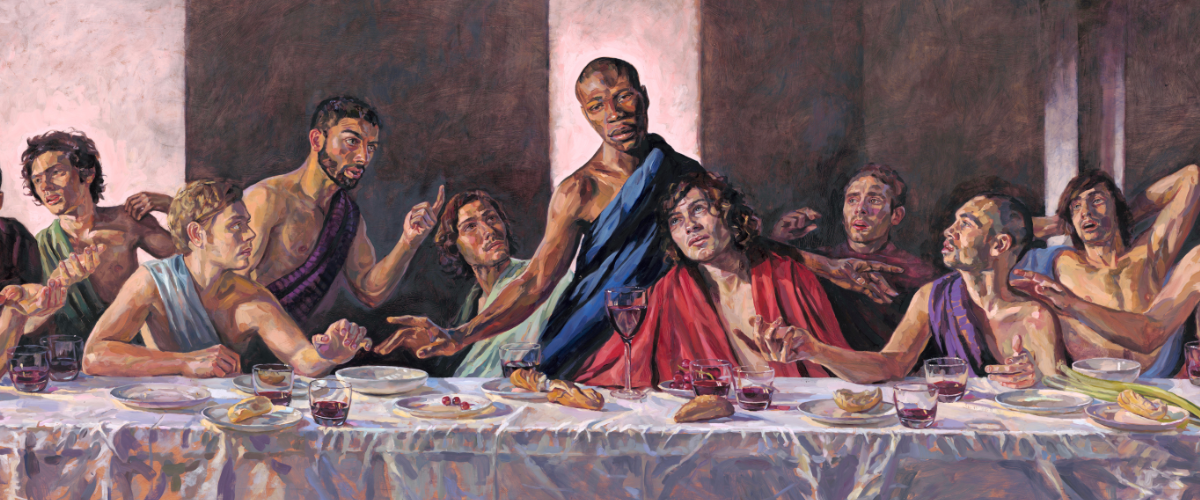 Diocesan Inclusion Officer, the Revd Vanessa Layfield says: "The Last Supper image of a black Christ may be shocking to some, but why? One might argue that an image of a white Christ is just as dishonest as an image of a black Christ, for Christ was neither black nor white, but a brown Middle Eastern Jew.
"The exhibition helps us to reconsider our unconscious bias and our assumptions about others and in so doing will help us create a more inclusive Church."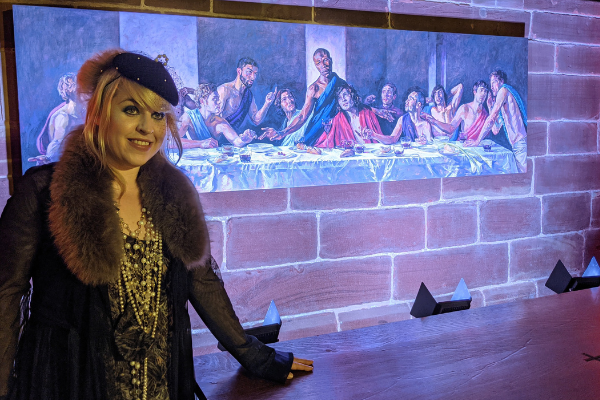 Artist Lorna May Wadsworth says: "I'm thrilled that Chester Cathedral has put together an exhibition of inclusive representations of Christ. This show embodies everything I wanted to convey when I embarked on my Last Supper altarpiece 12 years ago."
Also on display is Meg Roe's reimagining of Audrey Rublev's Trinity icon. She uses the Russian artist's famous composition to demonstrate community solidarity and sensitivity for all those displaced and maltreated. It belongs to Southwark Cathedral and is a much-loved addition to its collection.
The Revd Canon Lameck Mutete, the Chair of the diocesan Race and Ethnicity Forum says: "It is our hope that the Global Images of Christ exhibition will not only be an opportunity for us to listen, learn and be transformed, but bring all God's people to an understanding that the God we worship is neither black nor white but a God of all people."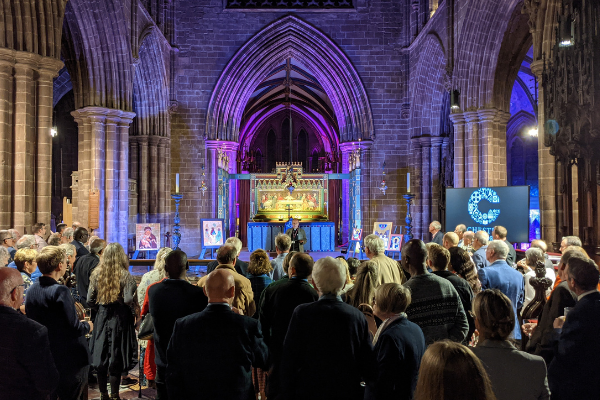 Dean of Chester, the Very Revd Dr Tim Stratford says: "We are very familiar with pictures of Jesus Christ cast in our western European image. This exhibition helps us see him through the eyes of other cultures enlarging our understanding of God."
Global Images of Christ: Challenging Perceptions is open Monday – Saturday 10am – 6pm, Sunday 12 Noon – 5pm from Saturday 25 September to Saturday 30 October.
Entry is free and donations are welcome.
Some of those attending the opening event shared their thoughts on why it is an important exhibition to hold now.