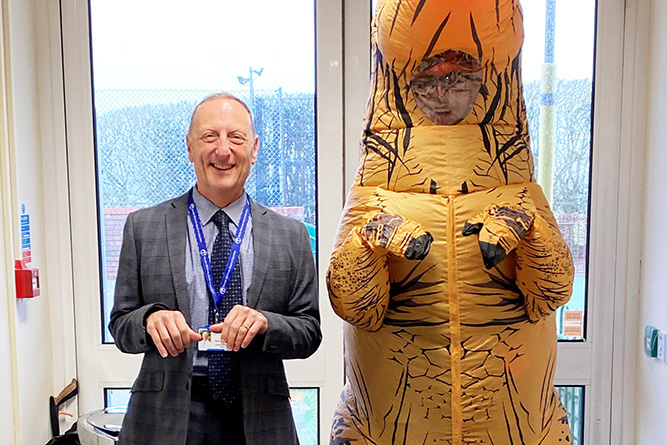 Schools across the Diocese of Chester marked World Book Day on Thursday 03 March and Mark Whitehill, School Effectiveness Officer for the Diocesan Board of Education found himself working alongside a member of staff dressed as a T-Rex at Acton C of E School.
Acton school was just one of many Church of England schools around the diocese that celebrated World Book Day by dressing up as their favorite characters. Students and teachers alike made a real effort this year, probably in part, because Covid meant that they haven't been able to host such a day for over two years. Stephen Freeman, communications officer for the diocese phoned ten schools to ask if they were doing anything for World Book Day and every single one said that they were doing something.
Mark Whitehill says: "I was privileged enough to be greeted warmly this morning at Acton CE Primary School by a giant inflatable dinosaur, which gave me an indication of how the morning was going to go!
"Listening to the excited voices of the children (and staff!) was enough to let me know just how fantastic it was to be part of World Book Day – a wonderful event, taking place as whole-school celebrations across the diocese for the first time since the pandemic started.
"Children showed imagination, resourcefulness and no doubt many different versions of famous book characters to demonstrate their love of reading in our schools.
"It was a reminder of how much we have all missed the ability to simply be together, to feel the enjoyment of taking part in a common celebration, and to just enjoy watching children doing what they do best – having fun!"
See pictures from Acton and some other schools taken on World Book Day on our Facebook page.