In this Church House Blog, Stephen Freeman, Design and Communications Officer, with a basic knowledge of maths, wonders how Christianity passes from one person to another.
---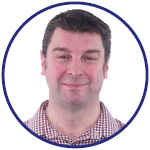 28 July 2020
By Stephen Freeman, Design and Communications Officer
stephen.freeman@chester.anglican.org
I remember when I first heard the phrase "The R number" in the early days of the pandemic. I barely scraped through my maths exams and algebra wasn't my best subject, so I just thought this was all gobbledygook, scientific talk that I didn't have a hope of understanding. But after a quick search on Googledygook, I suddenly found that I knew all there was to know about the R number. It simply means "basic Reproduction number". Now, after months of lockdown, the R number is now generally less than 1, which means that for every person that is infected with Covid, they pass it on to less than one person. Things are going in the right direction.
You probably have already worked out where I'm going with this, but I'm going to pose the question anyway. Should we be thinking in terms of a C number? What if every Christian were to pass on their faith in Christ to more than one person? We don't even have to be aiming for whole numbers here. What if each Christian passed on their faith in Christ to 1.2 (that's one point two, not twelve) people. What if this could be done, not every day, not every week, not every year, but just once over the course of a lifetime.
A new family moved into a house a few yards away recently. They arrived from the Netherlands, but prior to that they grew up in Africa, Nigeria, I think they said. I recently met them on the road as they arrived back home one Sunday. We got chatting and the mother told me that she had been to church that morning. But it didn't stop there, she was really enthused about what Jesus brought to her life, how he had changed her life once she had let him in and she smiled from ear to ear when telling me all this.
What really struck me was that she was proud of her faith and had no problems telling people, even relative strangers like myself. What would her C number be I wonder? I can say for sure that her utter conviction and enthusiasm was infectious. She doesn't keep her spiritual beliefs to her herself, or to the confines of the church she attends. She spreads her faith in Christ far and wide and no lockdown will ever slow her down.