Jayne Manfredi, who is due to be ordained in July, has said a local toddler group in Crewe helped her find God.
The mother of four children was raised an atheist and, other than being baptised as a child, had not stepped foot in a church until the day she attended a local toddler group with her two youngest children.
Jayne, who will be ordained at Chester Cathedral on Sunday 03 July, says attending the toddler group made her realise that her ideas of what it means to be Christian were wrong.
"There was a female curate, and she was lovely and normal, and I started to wonder why it was that these intelligent people believe all this; it opened to me a curiosity about faith and why people think the things they do."

Jayne with her children and husband
Jayne made friends with other mums, some of whom were Christian, but the road to faith and ordination for her was, at times, "long and lonely" due to her atheistic upbringing.
"I could see that the way of faith was incredibly nurturing for people and was full of joy and love and comfort and there was something very attractive about that, but intellectually at that time, I couldn't rationalise it.
"There was one lady I made friends with, she was raised Catholic with church-going parents, and I started spending time with her. She talked so openly about God, which made me cringe at first, but then I began to realise that she's actually quite wise and there's more to the caricature I had in my head of what it means to be Christian."
Jayne continued to take her children to the toddler group but still had some distance to travel and wrangling with God to do before she would commit her life to Christ.
"I'm really starting to worry that there might actually be a God"
It was at this time that Jayne's husband was made redundant, and a week later she lost a child through miscarriage.
One evening, having put her children to bed, Jayne went for a walk.
"I didn't know where I was going, and I headed up to the church where I went for the toddler group, and I knocked on the door. The vicar answered and I said, 'I'm really starting to worry that there might actually be a God and I need to talk to somebody about it.'
"He welcomed me in, made me a coffee and I was there for about two hours. I can't remember what we talked about, but when I got home my husband said it looked like I'd been lit up from the inside out. It was like pennies raining down and things clunking into place. Suddenly it just made sense."
Over time, Jayne deepened in her newfound faith and was eventually confirmed, a public rite she says she found helpful as she took on a new identity in Christ.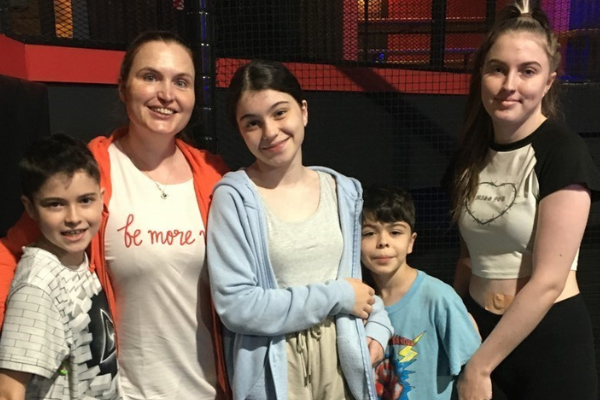 "I want to be loved for who and what I am"
Now, after years of discernment and study, on the eve of her ordination a tension remains between her atheistic upbringing and her strong Christian faith but surprisingly, it is this that has brought her closer to God.
"Looking back, that conversation was God grabbing me by the scruff of the neck and saying, 'Come with me, we'll explore this together.' And that's exactly what I did and continue to do."
"I love the grey area, that's where I feel the most nurtured and comfortable. We live in times where we're encouraged to over think all things and to have a solid answer for absolutely everything. Yet for me, there is comfort in thinking 'I don't' [have a solid answer]. This is what's brought immense joy into my life."
Following her ordination at Chester Cathedral on Sunday 3 July, Jayne will serve her curacy at St Mary's, Sandbach.
---
Pray for our ordinands
Please hold in your prayers all those to be ordained deacon on Sunday 3rd July 2022 at Chester Cathedral by Bishop Mark Tanner, Bishop of Chester.
Jane Addenbrooke – Upton (Overchurch) St Mary
Ashleigh Askwith - High Lane, St Thomas and Low Marple St Thomas
Sarah Batchelor – Guilden Sutton, St. John the Baptist, united with Plemstall, St Peter
Jane Crook – Marple, All Saints
Julie Hassall - Middlewich, St Michael and All Angels, united with Byley-cum-Lees
Charlie Laver – Stalybridge, Holy Trinity
Tina Lightfoot – Christleton, St James and The Cathedral Church of Christ and the Blessed Virgin Mary
Jayne Manfredi – Sandbach, St Mary
Jo Pemberton – Chester Holy Trinity Without-the-Walls (Blacon)
Richard Reeve – Handforth, St Chad
Jonathan Roberts – Coppenhall, St Michael
Tom Ryan – Broadheath, St Alban