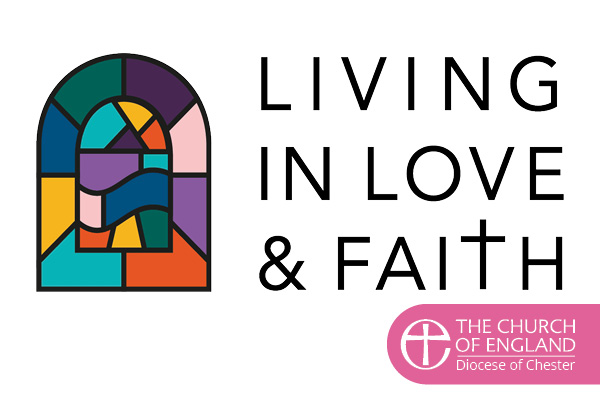 In November 2020 a landmark set of resources drawing together the Bible, theology, science and history with powerful real-life stories was published. This marked the beginning of a new process of discernment and decision-making on questions of identity, sexuality, relationships and marriage.
The product of three years' work by more than 40 people, led by the Bishop of Coventry, Living in Love and Faith includes a 480-page book, a series of films and podcasts, a course and an online library of other publications.
The House of Bishops issued an appeal to the whole Church of England to participate in learning together, using the resources for open, honest and gracious discussion, listening and learning.
In the Diocese of Chester, we are joining in enthusiastically, with many parishes taking part in Autumn 2021. For others, the Spring of 2022 is more realistic. The deadline for feedback is the end of April 2022.
A group of bishops, chaired by the Bishop of London, Sarah Mullally, will lead the process of discernment and decision-making about a way forward for the church in relation to human identity, sexuality, relationships and marriage.
In their invitation to the church, the bishops said: "Our prayer is that as all of us, the people of God, take time to listen and learn together, our love for one another will be deepened and our faith in Jesus Christ strengthened so that His joy will be made complete in us."
Let us know what you've been doing
We would love to hear from parishes who have accepted this invitation to get a picture of how LLF is being engaged with in different places and contexts. Please use this link to complete our online form to tell us what you've been doing.
Why LLF matters
In a foreword to the Living in Love and Faith resources, the Archbishop of Canterbury, Justin Welby, and Archbishop of York, Stephen Cottrell, acknowledge and apologise for the "huge damage and hurt" that has been caused particularly to LGBTI+ people within the Church.
"At the heart of our failure is the absence of a genuine love for those whom God loves in Christ, knowing as God does every aspect of all of our lives," they write.
But addressing the future, they add: "Our prayer for the Church through this work is that collectively we demonstrate the same love to one another that we have experienced from God."
The resources
Living in Love and Faith Book
The Living in Love and Faith Learning Hub
The book opens with an account of how Jesus invited people to sit down together as he fed the 5,000. It notes how Jesus often sat down with people with radically different lives and views.
The Bishop of London, Sarah Mullally, who will lead the 'Next Steps Group,' said: "The challenges of the pandemic have underlined how we need each other more than ever.
"At the same time, we can see how deeply divided the Church is over these questions, and we must seek God's will by learning together, listening to each other and to God.
"We will encourage and support churches to do this in ways appropriate to their local contexts over the coming year, inviting people to reflect on their learning, both as groups and individually.
"This must be a meaningful process with a clear way forward.
"However, it will not succeed without love, grace, kindness and compassion."
Diocesan Support
The Diocese of Chester has three Diocesan Advocates who sit as part of a Diocesan Advisory Group for Living in Love and Faith. Taster days took place in June 2021, followed by training for facilitators later in the summer. Facilitators are able to guide small groups through the 5 week course which is at the heart of the Living in Love and Faith process.
Facilitators
From late September 2021 there will be Diocesan approved facilitators in place to support parishes who feel they would benefit from external support. Indeed, the Diocesan Advisory Group recommends this where possible. Contact Vanessa Layfield or Jonny Masters to request a facilitator for your course.
Chaplaincy
More than twenty well qualified chaplains have been recruited from across the Diocese. They are available to provide pastoral support to participants in the course, and others who are affected by the LLF process. Whether it is support in coming out to your church, or thinking through the hurt that you have received regarding these issues, a chaplain may be a helpful first contact. For chaplaincy support contact Nikki Eastwood. However, for some people, a different kind of support will be needed. This could be counselling.
Counselling
The Diocesan Counselling Service is available for everybody connected with the Church of England in the Diocese of Chester. You can find out more here.
Other Support
The Diocesan Advisory Group are available to support those who are seeking to run the course who have questions. They are available to visit Deanery Synods and Chapters as well as PCCs and individuals if it is helpful.
Contacts
Vanessa Layfield – Inclusion Officer vanessa.layfield@chester.anglican.org
Jonny Masters – Youth, Children and Families' Adviser jonathan.masters@chester.anglican.org
Nikki Eastwood – Diocesan Advisory Group Chair nikki@stm-upton.org.uk