Downing Street has announced that the Revd Lynne Cullens will be the next Bishop of Barking in the Diocese of Chelmsford.
Lynne is currently Rector of Stockport and Brinnington, a role she has held since 2019.
Speaking to Bishop Mark in a recorded interview, Lynne said her appointment was a "surprise from our God of surprises".
Lynne said: "I was really surprised to be invited to take up the role, but I am delighted, I'm humbled and thrilled."
Lynne described how she has always felt called towards reorientating the Church towards the poor and the marginalised, rather than any particular role: "If you said to me 'have you always been called to be a bishop', the answer would be 'no'; have I always felt a calling to change the Church and position myself in order to do that, then 'yes'. I think the role of bishop will enable me to have greater agency and to be used by God to facilitate that continuing change and reform of the Church."
Welcoming Lynne's appointment, Bishop Mark said: "We are so pleased to hear of Lynne's appointment to the Diocese of Chelmsford as Bishop of Barking. We will miss her in the Diocese of Chester; particularly her energetic grace and persistent imagination in serving those who have least, but will be holding her and the Parish of Stockport and Brinnington in our prayers."
The Bishop of Stockport, Sam Corley said: "Lynne has made a huge contribution to the town and borough during her time in Stockport. She has been quick to spot opportunities for mission, adept at creating effective partnerships with a wide range of individuals and organisations, and consistent in creating spaces where the voices of those who are too often marginalised can be heard and responded to effectively. Lynne has this incredible ability to ask difficult questions and name uncomfortable truths with a combination of steel and grace that helps to release justice and effect change. And I am sure that the communities, schools, chaplaincies, and churches in the Barking Episcopal Area, and across the Diocese of Chelmsford, will benefit hugely from Lynne's warmth, experience and determination to see the Kingdom of God grow."
Comments on Twitter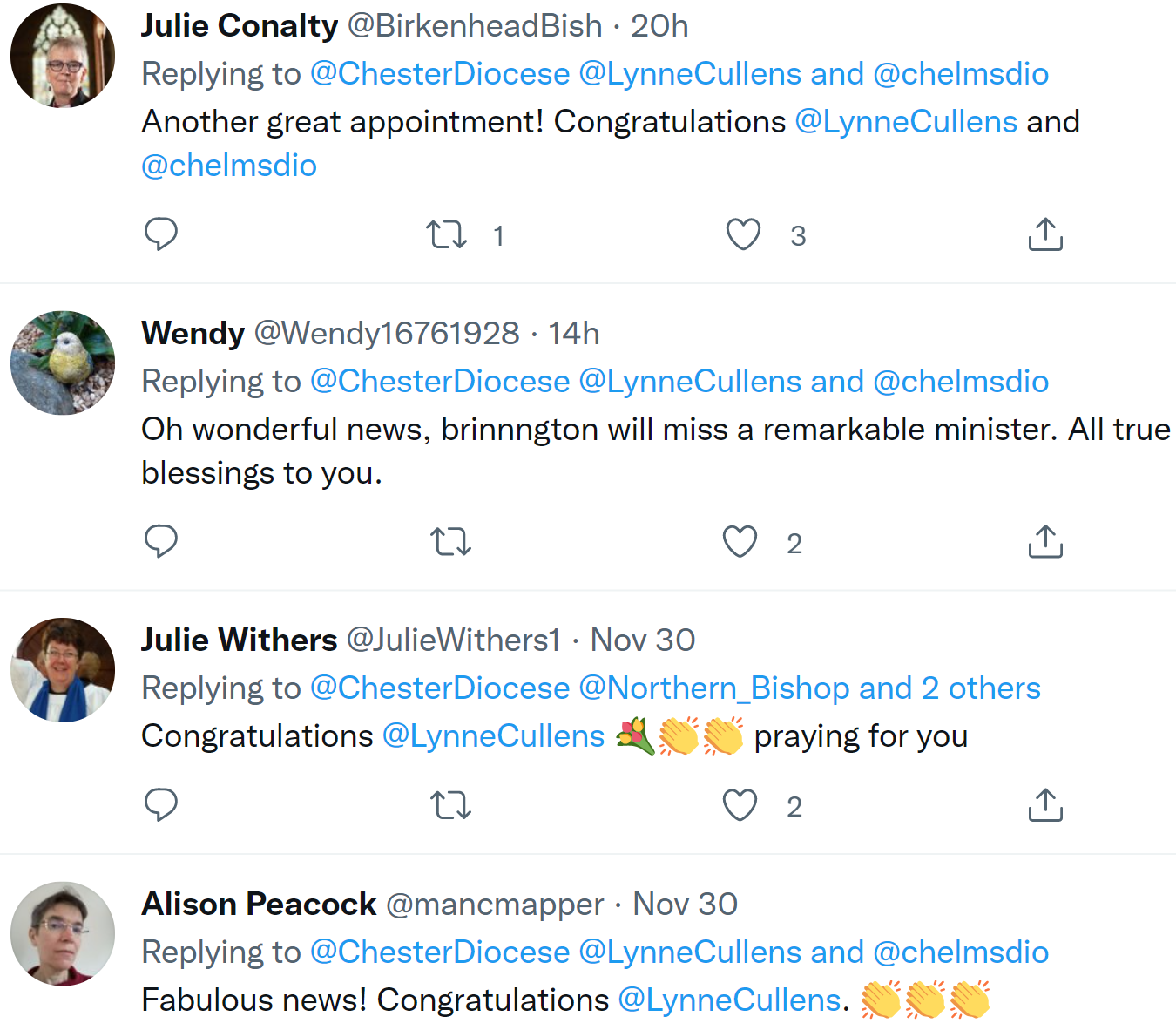 Dr Guli Francis-Dehqani, the Bishop of Chelmsford said: "I am delighted that the Reverend Lynne Cullens will be joining us in Chelmsford Diocese as the next Bishop of Barking. Lynne will bring a wealth of experience from parish ministry, from her previous career as a charity chief executive and from the work she has done for the Church nationally, particularly in the area of housing and Estates evangelism. Her passion for social justice and serving local communities has been a hallmark of her ministry and will serve her well as she ministers alongside our outstanding team of clergy and lay leaders in the Barking Area. I know others will join me in warmly welcoming Lynne to our diocese. Please join me too in praying for her as she takes this next step in her ministry."

Lynne with the Dr Guli Francis-Dehqani, the Bishop of Chelmsford (Photo: Diocese of Chelmsford)
Lynne was ordained Deacon in July 2012 and served her curacy in the parish of Congleton before becoming a non-stipendiary minister in The Benefice of Sandbach Heath (St John the Evangelist) with Wheelock in September 2015. Lynne then served as Priest-in-Charge in The Benefice of Crewe (St Andrew with St John the Baptist) from May 2016 until she took up her current role.
Lynne is a member of the Church of England's Selection Oversight Group which develops and oversees selection processes for candidates for ordained ministry in the Church of England and the Estates Evangelism Task Group which focuses on growing Christian communities on social housing estates. Lynne also serves on the Archbishops' Commission on Housing, Church and Local Community.
A former charity CEO, Lynne was born in Ordsall, Salford.
She will be consecrated in the New Year.
---
What is God calling you to be and do?
The flagship diocesan vocations day, Called to Serve, will take place on Saturday 29 January 2022. Fifty places are available to individuals who want to find out more about the different ministries, both lay and ordained, that are available in the Church. Register for Called to Serve.