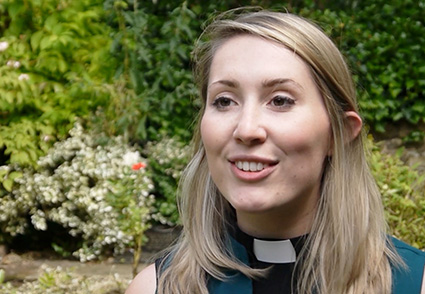 Growing numbers of young people are seeking ordination to the priesthood, as the Church of England makes progress towards achieving a key target of recruiting more candidates for ordained ministry, according to new figures published today.
The number of people aged under 32 years old recommended for training for ordination this year rose by nearly a third, or 32%, to 169, compared to 128 in 2016, a report on vocations from the Church of England shows. This means nearly one in three, or 29%, of those entering training for the priesthood this year are expected to be under 32 years old.
The overall number of people recommended for ordination training is up 7% on last year, from 541 to 580. This follows a 14% increase the year before, putting the Church on course to achieving a key target of recruiting 50% more candidates for ordination by 2020.

The figures have been published alongside Ministry Statistics for 2017 showing just over 20,000 active clergy in the Church of England, with women making up nearly a third, or 30% of the total. But the number of clergy in paid positions in 2017 fell by 50 from 7,790 to 7,740 compared to 2016.

Nearly a quarter, or 23% of paid clergy in senior posts, such as Bishops, Cathedral Deans or Archdeacons were women in 2017, compared to 12% in 2012.

Meanwhile the vocations report shows that women are set to be the majority entering ordination training for the second year running, with 54% of this year's recommended candidates being female.
Director of Vocations in the Diocese of Chester, Revd Magdalen Smith said: "In Chester we have been delighted to encourage the vocations of a growing number of younger candidates/people who already have an inspiring sense of wanting to love and serve others and the Church. Many of these candidates have enormous capacity to think creatively about the church of the future and are willing to take risks for God, as well as relating to the church of the now. They bring the Diocese as well as the wider church a great sense of inspiration and hope"
Steph Lester (pictured), from the Diocese of Chester, was ordained a deacon this summer. She said: "I realised that people need a lot more love in their lives and I thought, how can I help."
Find out more at: Great Vocations Conversations