A landmark exhibition of over 40 works of art, sculpture, and images from artists such as Mark Cazalet, Peter Eugene Ball, and Lorna May Wadsworth will challenge our perceptions of how Jesus Christ and other people of faith are depicted.
The exhibition opens at Chester Cathedral on 25 September and runs every day until the end of October.
The diocesan Race and Ethnicity Forum has been the catalyst for the exhibition and its chair, the Revd Canon Lameck Mutete, Rector of Tattenhall, Handley, and Burwardsley parishes, says: "It is our hope that this Global Images of Christ exhibition will not only be an opportunity for us to listen, learn and be transformed but bring all God's people to an understanding that the God we worship is neither black nor white but a God of all people."
When: Everyday from 25 September to 30 October
Where: Chester Cathedral
Cost: FREE, donations welcome
---
Teaching Day: Global Images of Christ
| | |
| --- | --- |
| | A special teaching day will take place on 28 October in partnership with the Global Images of Christ exhibition. The teaching day aims to help people think through issues of race and ethnicity as they affect the Church today. Find out more here. |
---
The Archdeacon of Macclesfield, and Chair of the Committee of Outreach, Ian Bishop says: "This is an exhibition that will challenge your perception of who Jesus is and how he is perceived across the world. I hope that you will come and bring your congregations and your friends to what will be a very special exhibition."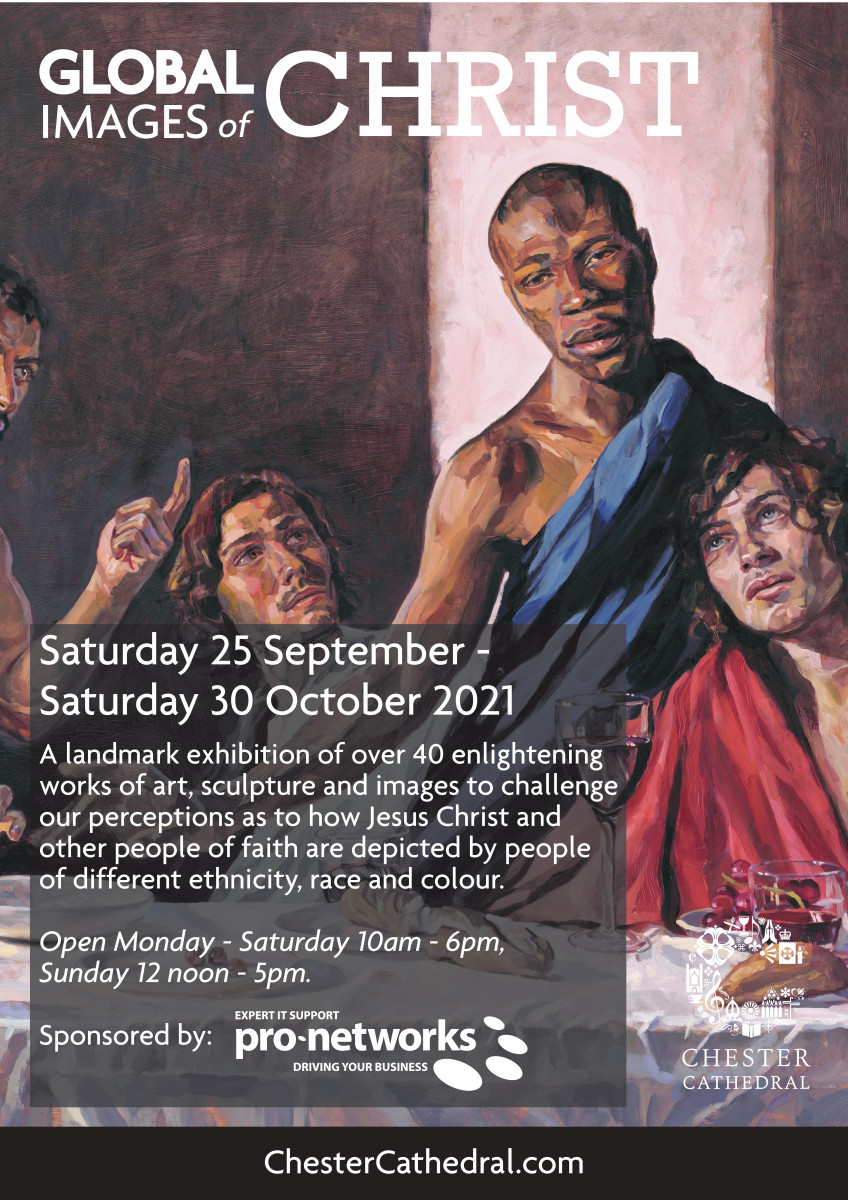 Why the exhibition is important?
Clearly, prejudice and injustice of any kind is a matter of concern to God and to Christians all over the world. The exhibition is part of the ongoing diocesan response to the issue of racial discrimination.
Diocesan Inclusion Officer, Revd Vanessa Layfield says: "The A Last Supper image of a black Christ, may be shocking to some, but why? One might argue that an image of a white Christ is just as dishonest as an image of a black Christ, for Christ was neither black nor white, but a brown Middle Eastern Jew.
"The exhibition helps us to reconsider our unconscious bias which causes us to make assumptions about others and in so doing perhaps creates a divisive rather than an inclusive Church."