As Foxhill House and Woodlands prepares to celebrate its 50th year in 2019 and churches around the diocese give thanks for the harvest, this week one member of Foxhill staff is celebrating his 25th year working as a chef at the Christian retreat house.
Lee Reece joined the diocesan retreat centre, based in Frodsham, in 1993 at a time when he listened to Iron Maiden and Metallica; these days he's more likely to be found listening to BBC Merseyside from the Foxhill kitchens whilst preparing meals for the guests.
Prior to joining Foxhill, he'd been in the army, but his army career was cut short. Out of work and living in Runcorn, Lee saw a job working at Foxhill advertised in the local job centre. He was offered the job and although he says he was quite nervous on his first day he was soon made to feel welcome and comfortable. He was offered gatehouse lodgings and quickly settled in.
Over the years the job has developed as the dietary requirements of the guests have changed: "When I was training at college, vegetarianism was about the only thing we had to consider, but now as part of my job I'm expected to know about a number of different dietary requirements and how they impact on people's health. These days it can be a challenge; we might have people that are diabetic, vegan, vegetarian or gluten-free, all within one group of guests."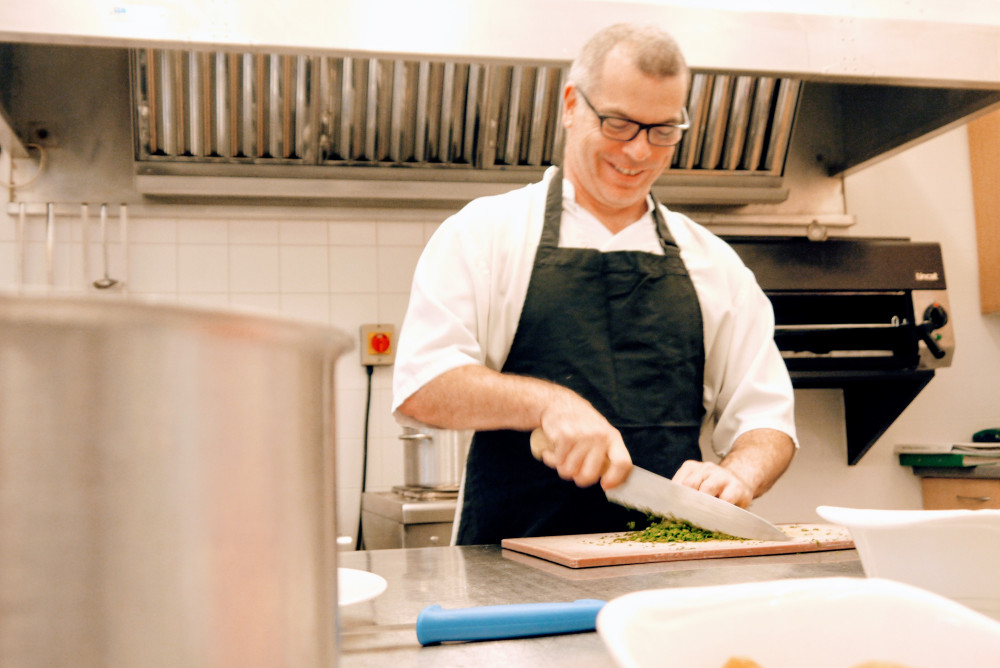 Whilst the dietary requirements made of the kitchen have become more complex, it is this level of flexibility which is part of the welcome and hospitality that Foxhill offers and upon which it is building a solid reputation.
Lee says the beauty and the peacefulness of Foxhill House and the woodlands that surround it have helped him deal with life's challenges.
He says: "When the pressure has been on, either here or at home, I like to have a quiet moment and occasionally ask God for help. Foxhill is a good place to come and get away from everything; even on my days off I'll take a ride up here and sit in the grounds for a bit and get out of the way. It's peaceful."
After 25 years, Lee has worked for five different site managers. He says he very much feels like "part of the fabric of the building" and says that Foxhill has been a "really good employer" over the years.
He says: "The guests are nice, the staff have always been nice, but the main thing is I feel safe here. I wouldn't know what how to get a job now, I wouldn't know anything else. Foxhill is me. I am Foxhill. It's been a really good employer to me over the years."
In 2019 Foxhill House and Woodlands will celebrate its 50th year with a special programme of events.
Go to www.foxhillchester.co.uk for more information.
Lee lives with his partner in Runcorn and has two children.