Mr Michael Coupe celebrated his 60th year as a Reader in the Church of England on Sunday 16 September. A special service of thanksgiving and celebration was held in his name at St George's Church, Heaviley. Many attended the service, including a number of previous Vicars of St. George's, and fellow lay Readers, some of whom had been mentored by Michael over the years. Bishop Graham Dow preached about the importance of having Christ at the centre of our lives.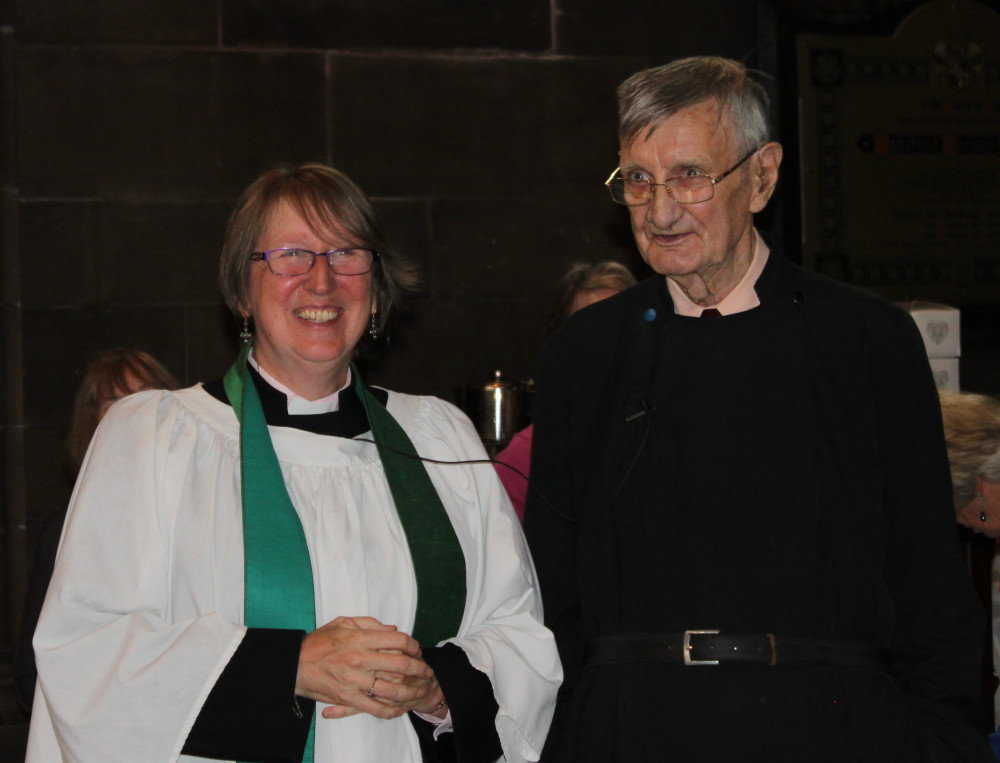 The Vicar, Canon Elaine Chegwin Hall said of the occasion, "It fills me with so much joy that we were able to spend this special occasion with Michael."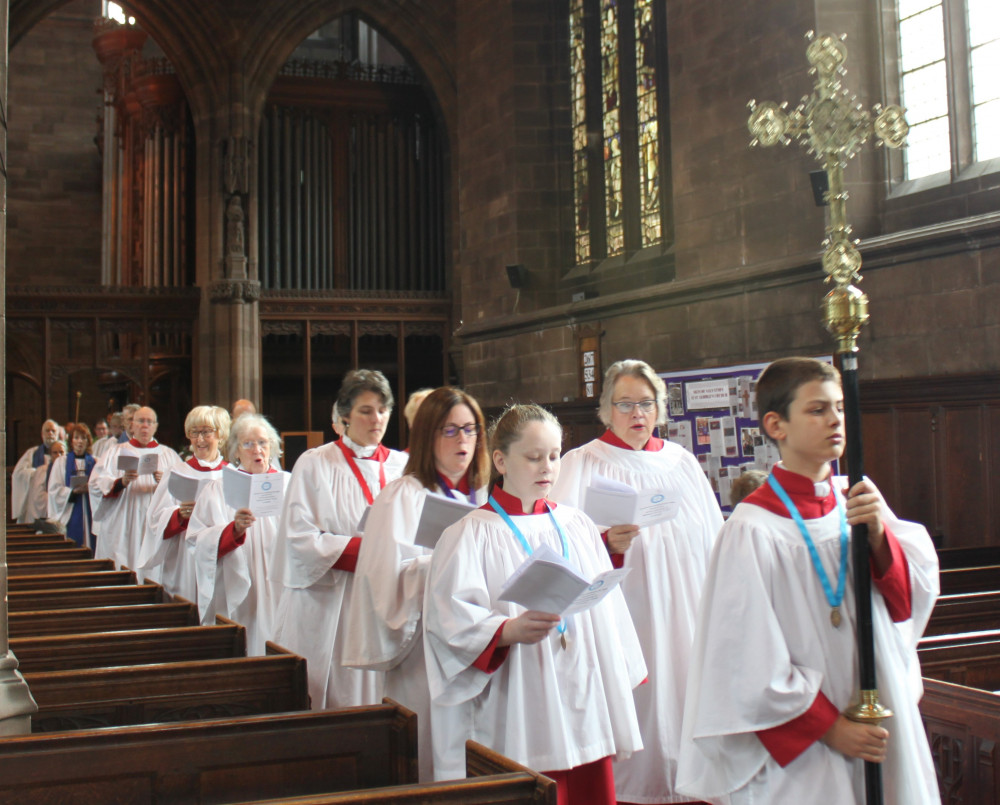 In the lead up to the service of thanksgiving and celebration, Kim Regan from St George's Church, interviewed Michael for the local parish magazine. You can read the full article below:
It has been my great honour to interview Michael Coupe, who celebrates his 60th anniversary of Readership on Sunday 16th September this year. A bishop will preach and there will be tea and cake!

Being a Reader with, sometimes, heavy pastoral responsibilities has kept Michael very busy over these past 60 years, but one of the things that spurs him on is people's thankfulness for the work he has done. Many times he has heard people say, "but you were there when…"

Asked how he became a Christian, Michael said that from his earliest years his Auntie Bessie had taken on the responsibility of seeing to his spiritual and cultural needs. While his mother was busy seeing to the family, his Auntie Bessie, who was a Sunday school teacher, always took him to church and to other places where he could soak up some culture.

For a number of years, the family lived in Manchester and Michael worshipped in local churches there. Michael could be quite impish as a young boy. Once when he was very young and attending The Church of the Holy Innocents in Fallowfield during Harvest Festival he proudly brought forward the family offering of fruit in a large basket. After handing it over, but before the Vicar could take it away, Michael leaned forward and took a lovely bright red apple off the top and took it back to his pew! The family was mortified. The embarrassing episode may well have prompted the family to move churches!

God's hand has been apparent throughout Michael's life, notably in encounters with well-known churchman, Canon Wilfred Garlick. Garlick was the Rector at St Nicholas in Burnage, the family's next church, where Michael sang in the choir.

Michael was born in Didsbury and lived there until circumstances forced the family to move to the vicarage in Blackrod where his parents served the Vicar and his wife, then to an Aunt's home in Blackburn. From there they moved to Bishop's Court, Salford, where his dad served as chauffeur and odd-job man at the Bishop's residence. It was in 1947 at the time of the Bishop's retirement that Michael's dad died overnight. Wilfred Garlick took the trouble to travel from Sheffield to Salford to comfort Michael's mother. In all these moves the presence of the church in one form or another was evident. Bishop Warman and his wife took Michael and his mother to Orpington in Kent where Michael's mother continued to serve as housekeeper. Michael finished his education there and started work with the Ordinance Survey in 1949. Michael and his mother returned to Stockport in 1950 where the church grapevine told of a potential vacancy for a housekeeper with one of the wardens at St George's. National Service interrupted Michael's career from 1951 to 1953, but his return to St George's afterwards allowed him to renew his friendship with a certain young lady called Valerie. They married in 1956. In the years that followed, Valerie and the couple's two children Elizabeth and Anthony were very supportive of Michael's work with the church.

The constant need to move with Ordinance Survey did not suit Michael so he joined the staff at Prestwich Hospital as a stores clerk at a time when the hospital had 3,000 patients. Posts followed at the Christie Hospital, Withington Hospital and finally at Wythenshawe Hospital where he remained until he retired.

Michael became interested in becoming a reader even before he was married and it was while Canon Garlick was at St George's that Michael began his reader training.

At that time the training for readership was not as well organised as it is now, nor was the service for licensing readers. The service was held-as it is now-at Chester Cathedral, but it was simply tacked on to the end of evensong and took place after the choir had gone home!

Some of your readers may remember the reader Harry Avery. He was Treasurer of the Chester Diocesan Society of Readers. Harry wished to retire and suggested to the Bishop that a certain Michael Charles Coupe might be prepared to take on this mantle of Elijah to someone who simply could not say "no" to a bishop. After a few years, this post led on to Michael becoming the Secretary of the Society.

Over the years, Michael has preached throughout the deanery and into Cheshire as far as Winsford. When Michael retired from Wythenshawe Hospital, Vicar John Roff asked him to take over the organisation of a pastoral visiting team. His work has often involved a good deal of pastoral work.

Tellingly, Michael's favourite hymn, which is in an old hymn book, is called "Caring." The final verse is as follows:

"That ours may be the holy task; to help and bless, to heal and save; this is the happiness we ask, and this the service that we crave."

His favourite prayer is by St Ignatius of Loyola:

"Teach us good Lord, to serve you as you deserve, to give and not to count the cost, to fight and not to heed the wounds, to toil and not to seek for rest, to labour and not to ask for any reward, save that of knowing that we do your will."

This prayer sums up Michael's commitment and devotion to his varied and extremely busy working life beautifully. As he puts it, "When you become involved with Church you never know where it is going to take you."

As a postscript to our interview, Michael said: "Being a reader has as much to do with the world outside the parish and the church.

Michael doesn't believe in coincidences and he always asks the question: "Why was I there?"

While he was working at Wythenshawe hospital he was there to support a Police Chief Inspector after the Airtours plane caught fire at Ringway. Everyone at the hospital - the staff and the police force - had a role to play as friends and relatives came in to enquire about their loved ones, only some of whom were still alive. Michael thought his role in the situation was to pray so he prayed intensely for several hours. Afterwards, he said he had never felt so tired in his life.

According to Michael, anyone who considers becoming a Reader needs a sense of humour and patience. One sows and another reaps. (John 4:37). We all look for instant success and it always has been so. Even dear Auntie Bessie would have wished for larger numbers in church. A few years back Michael visited a neighbour whose husband had died and in talking about her husband she said he had attended Sunday School at Holy Innocents at Fallowfield. She brought out a bible that her husband had been given as a reward for regular attendance. On looking inside the front cover, although the signature was that of the Vicar, the dedication was in the handwriting of Michael's Auntie Bessie. Only God knows how fruitful her ministry had been.

St George's and St Gabriel's Churches offer Michael their grateful thanks for his 60 years of faithful and loving service.