Representatives from several Macclesfield churches showed their commitment to the 5th Mark of Mission by presenting the local MP David Rutley with a petition.
Signed by 650 members of churches working together as Hope in North East Cheshire, the petition called for the Government to bring forward the date by which they plan to have net zero emissions of greenhouse gases.
Bishop Willy Alaha Pwaisiho, Honorary Assistant Bishop and Rector of Gawsworth, shared with the MP his own experience of the impact of climate change in the Solomon Islands, where several of the islands have had to be abandoned because of rising sea levels and communities and livelihoods destroyed as a result.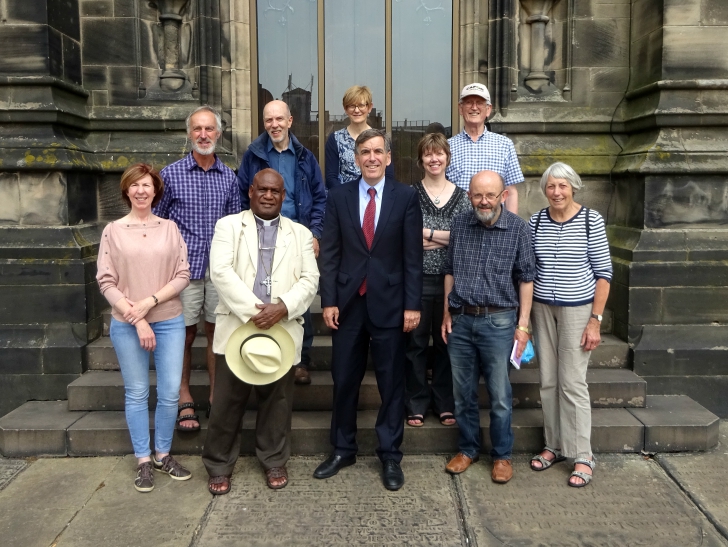 The news comes just a couple of months after Bishop Willy called for greater action to tackle climate change at the 29th annual session of the Crans Montana Forum. Speaking at the forum in July and addressing Heads of State and Government, ministers, members of parliaments, international organisations and major businesses from more than 100 countries, he said: "Our planet earth is scarred and abused, our air and atmosphere is polluted with poisons and every human being is responsible, sooner or later we will be sorry. Well, it is now more evident where I come from in the South Pacific that small island nations are now suffering as the result of climate change and global warming. It is true today that entire communities have lost their livelihood since the rise of the sea level. Lands to plant food and wells to drink from are no longer useful, the ecology is now suffering."
Care for God's Creation is becoming a bigger part of the mission of many Macclesfield churches: St.Barnabas and St.Peter's both have community gardens; Cre8 has organised a re-cycling event, and St.Peter's Prestbury has met with children from the church school to discuss how the church can reduce its carbon footprint. St.Michael and All Angels' has received the Ecochurch Bronze Award and installed a hive of bees on the church roof.